The Definitive Guide to the Post-Season Movies

I. South by Southwest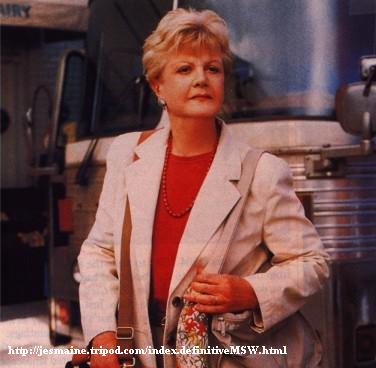 While riding the Amtrak train from Los Angeles to El Paso, Jessica meets Sarah McLeish, a terrified woman who's in protective custody after witnessing the murder of a Government whistleblower. When Sarah vanishes off the train, a worried Jessica decides to investigate, making an unscheduled stop in a mysterious Arizona town and drawing the attention of the NSA.

Sarah McLeish – Mel Harris
Wilder – Ray Baker
Loomis – Cliff Bemis
Algric Bartles – Keith David
Millie Ogden – Harriet Sansom Harris
Jack Ogden – Richard Riehle
Guzman – John Vargas
Takano – Nelson Mashita
Dottie – Susan Blommaert
Jarvis Bean – Rance Howard
Jim Sunrise – Stuart Proud Eagle Grant
Pearl Sunrise – Lisa LaCroix
Joe Sunrise – Lowell Raven
Phipps – Gary Bullock
Radley – Michael Krawic
Landis – Don Fischer
Cyrus – Richardson Morse
Fred – Ancel Cook
Landis – Don Fischer
Det. McRaney – James Mathers
Stationmaster – Ford Lile


II. A Story to Die For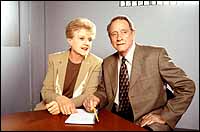 While at a writers' conference, Jessica meets up with Warren Piece, an old friend and fellow author who introduces her to his protιgι, Patricia Williams. When another guest lecturer, an author and former KGB agent from Russia, is murdered, Patricia is arrested and charged with his murder. Jessica agrees to investigate at Warren's behest, but warns him that she must follow the truth, wherever it may lead.

Warren Pierce – Richard Crenna
Patricia Williams – Kathryn Morris
Yuri Malenkovich – Duncan Regehr
Everett Jayne – Daniel Dae Kim
William Bassby – Steven Culp
Joseph Brennan – J. Patrick McCormack
Lt. Det. Bob Mankowsky – Jay Acovone
Lorraine – Anastasia Barzee
Brent – Richard Anthony Crenna
Aaron Clemson – Don Snell
Desk Clerk – Blair Hickey


III. The Last Free Man

Jessica attends a lecture in Virginia given by Cassandra Hawkins, who is trying to clear the name of her ancestor, Samuel Pinckney. Samuel, a slave, was killed by a mob who accused him of murdering a white plantation owner on his wedding night in 1860. Jessica's investigation reveals that she herself is a descendent of Samuel's owner, Sarah McCullough. As Jessica and Cassandra search for clues in the present to discover who really committed the crime, flashbacks reveal that Sarah was quite a detective in her own right.

Sarah McCullough – Angela Lansbury
Cassandra Hawkins – Phylicia Rashad
Samuel Pinckney – Michael Jace
Stanford Thornton – David Ogden Stiers
Charles Hobbs – Madison Mason
Jeb McNell – Tim Abell
Mary Hobbs-Mercer – Elizabeth Lackey
Sheriff Underwood – Tim DeKay
Cornelius Ashland – John Hostetter
Laura Lee Kestes – Lee Garlington
Eliza Hoops – Gloria Stuart
Morgan Spencer – Peter Sherayko
Jim – Jeremiah Birkett
Archivist – Elizabeth Dennehy


IV. The Celtic Riddle

Jessica is summoned to Ireland for the reading of the will of an old acquaintance, Eamon Byrne, who has left her a cottage on his property, much to the chagrin of his survivors. In addition to the routine inheritances, Eamon sends the group of disgruntled family members and friends on a treasure hunt for an unknown hidden prize, but the hunters start dying off one by one.

Margaret Byrne – Fionnula Flanagan
Fiona Byrne – Geraldine Hughes
Breeta Byrne – Sarah-Jane Potts
Eamon Byrne – Peter Donat
Inspector O'Dwyer – Timothy V. Murphy
Nora Flood – Lynn Wanlass
John Herlihy – Sean Lawlor
Michael Davis – Joe Michael Burke
Paddy Whelen – Cyril O'Reilly
Kitty Murphy – Helena Carroll
Bridie Murphy – Mary-Pat Green
Tom Molloy – Andrew Connolly
Harry Ryan – Gerry Gibson
Denny, the Storyteller – William Morgan Sheppard
Malachi – Colin McCabe
Susan – Alisa Collins
Jogger – Peter Shaw, Jr.





Sources: TV Guide and The Unofficial Guide to Murder She Wrote by James Robert Parish.