Trivia Quiz: So You Think You Know Cabot Cove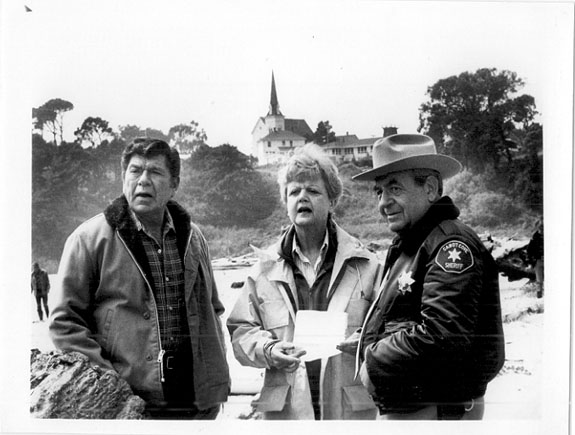 1) What is the population of Cabot Cove, Maine?

a) 6350
b) 3560
c) 5603
d) 6530
2) What were the names of Jebediah Roger's three greedy sons in the episode "Crossed Up"?

a) Irving, Seymour, and Maurice
b) Morgan, Gordon, and Adam
c) Larry, Moe, and Curly
d) Winkin, Blinkin, and Nod
3) This man ran Cabot Cove's mortuary and funeral home:

a) Elsworth Buffum
b) Elias Cobb
c) Jonathan Bailey
d) Ellis Holgate
4) Adelle Metzger is a veteran of what branch of the Armed Forces?

a) Army
b) Navy
c) Air Force
d) Marines
5) What street does Jessica live on in Cabot Cove?
6) For that matter, what's her house number?
7) Cabot Cove had two principle lodgings: the upscale Hill House Inn, and the "economy class" Lighthouse Motel. Besides its clean rooms and cheap rates, what else was the Lighthouse Motel known for among the locals?

a) A first class continental breakfast
b) Plenty of free parking
c) Free HBO in every room
d) Its windows don't lock
8) What year did the new Sheriff's Office open?

a) 1993
b) 1992
c) 1994
d) 1991
9) Mayor Sam Booth ran for re-election under what campaign slogan?

a) "The do-nothing mayor"
b) "He put Cabot Cove on the map"
c) "Liberty, Fraternity, Equality"
d) "Don't tread on me"
10) What is the name of the big festival held in Cabot Cove every summer?

a) Arbor Day
b) Community Yard Sale Day
c) Founder's Day
d) French Festival
11) What legendary Revolutionary War hero allegedly hailed from Cabot Cove?

a) Joshua Chamberlain
b) Joshua Peabody
c) Jebediah Springfield
d) Benedict Arnold
12) Which of the following is not a doctor who practiced medicine in Cabot Cove?

a) Wylie Graham
b) Jonas Beckwith
c) Seth Hazlitt
d) John Carter
13) What local business was lost to arson in the episode "Dead Letter"?

a) Stiller's Garage
b) Dixon's Diner
c) Owen's Furniture
d) Mutual Fidelity Insurance
14) What television news magazine came to do a feature on Cabot Cove in the episode "Obituary for a Dead Anchor"?

a) 60 Minutes
b) Scrutiny
c) Hard Copy
d) 20/20
15) This man was the long-time football coach at Cabot Cove High School until his retirement (and subsequent conviction for murder):

a) Kevin Caldwell
b) Andrew Derbin
c) Bill Hampton
d) Arnold Wakeman
16) What Cabot Cove resident's chronic ailment was considered a sure-fire predictor of coming rain?

a) Helen Appletree's arthritis
b) Mrs. Carthandler's lumbago
c) Mrs. Penniman's trick knee
d) Elvira Tree's rotator cuff injury
17) In "The Prodigal Father," Sam Booth bought a used boat from Caleb Brine only to watch her sink at dockside because of what fatal mistake?

a) He left a stopcock open
b) He anchored her stern instead of her bow
c) He scraped her bottom too thin
d) He ran her aground
18) Which of the following was not one of the regulars at Loretta's Beauty Parlor?

a) Ideal Malloy
b) Lois Hoey
c) Phyllis Grant
d) Eve Simpson
19) True or False: Harry Pierce was Cabot Cove's Sheriff.
20) Which season saw Seth go on a diet and a health food kick?

a) Season 5
b) Season 7
c) Season 9
d) Season 11
21) Which of the following is not a quote about Cabot Cove uttered by Sheriff Mort Metzger?

a) "Now perfect strangers are coming to Cabot Cove to die!"
b) "What is this, the Death Capital of Maine?"
c) "On a per capita basis, this place makes the South Bronx look like Sunnybrook Farm!"
d) "I have no intention of drowning in the backwaters of Maine."
22) When Floyd Nelson was offered management of an Ethan Allen Inn restaurant franchise in Vermont, Seth considered it a step up in the world because:

a) Ethan Allen didn't surrender West Point to the British
b) Ethan Allen was a more decorated war hero than Joshua Peabody.
c) Unlike Joshua Peabody, Ethan Allen was known for a fact to have existed.
d) Vermont had a much bigger market for historical theme restaurants than Maine did.
23) What is the name of Sam Booth's dog?
24) Which of the following was a legendary practitioner of witchcraft in Cabot Cove three hundred years ago?

a) Patience Terhune
b) Goody Proctor
c) Esther Fairchild
d) Chastity Blackwell
25) Jessica's former student Sybil Reed wrote a scandalous novel about Cabot Cove entitled:

a) Love and Hate in Cabot Cove
b) Peyton Place
c) A Christmas Secret
d) The Sins of Castle Cove
26) What was Ideal Malloy's indirect connection to literary sensation Sybil Reed?

a) She rented a big ugly house for her
b) She knew that Sybil's mother was the first girl in junior high to stuff gym socks in her bra
c) She slapped her father's face
d) She inspired Sybil to pursue creative writing as a career
27) Who was the Roman Catholic priest that came to Cabot Cove in the episode "Seal of the Confessional?"

a) Father Donald Barnes
b) Father Francis Mulcahy
c) Father Frank Dowling
d) Father Andrew Greeley
28) While housesitting for Jessica in Cabot Cove, Grady and Donna have a run-in with a sinister character known only as:

a) The Enforcer
b) The Equalizer
c) The Shadow
d) The Cambodian
29) While investigating an intruder in the house in the episode "The Szechuan Dragon," Donna asks Grady, "Do you suppose Jessica has a baseball bat or something?" What reply does Grady give her?

a) "No."
b) "She likes hockey better than baseball."
c) "Define 'something.'"
d) "She took it to London with her."
30) What was the name of the new editor of the Cabot Cove Gazette that joined the cast (and also left it) in Season 7?
31) In the episode "Moving Violation," what does Jessica tell Mayor Sam Booth to do when Ambassador Chandler Hellman accuses Mort of abusing his son?

a) Take a long vacation
b) Call a lawyer
c) Show some backbone
d) Schedule a press conference
32) True or False: The Season 7 finale "The Skinny According to Nick Cullhane" was P.I. Harry McGraw's first visit to Cabot Cove.
33) What does Seth Hazlitt have a collection of that represents a bone of contention between him and Mort Metzger?
34) In the episode "Thicker than Water," Mort finds work for his ex-con brother Wayne on what Cabot Cove fishing vessel?

a) Gretchen
b) Second Chance
c) Rebel
d) Ellen Louise II
35) Which of Mort's deputies was accused of committing murder?

a) Floyd
b) Andy
c) Emma
d) Wylie
36) What gift does Jessica give Seth in the episode "Benedict Arnold Slipped Here?"

a) A fly fishing reel
b) Tickets to a Red Sox game
c) An antique chess set
d) A pink apron
37) And what does Seth give Jessica in return?

a) A bouquet of flowers
b) A kiss
c) A Hallmark greeting card
d) Dinner out
38) What was former Cabot Cove resident Margaret "Mad Maggie" Babbington's claim to infamy in the episode "Family Secrets"?

a) She was a legendary witch
b) She committed a scandalous murder thirty years ago
c) She was a "cat lady" with over 100 cats
d) She absconded with money from a church fundraiser back in 1978.
39) In the episode "Death Takes a Curtain Call," how do Jessica and Ethan know that the man calling himself Jimmy Johnson from Bar Harbor is not who he says he is?

a) His Maine accent is terrible
b) He thinks the only Portland is in Oregon
c) He doesn't know his "port" from his "starboard"
d) He says that he's from Maine when Jessica asks him if he's from Down East
40) In the episode "Love's Deadly Desire," which noteworthy author rents an oceanside house in Cabot Cove?

a) Jackie Collins
b) Sibella Stone
c) P.D. James
d) Sybil Reed



Ready to see how you did? Click on Answers.