A Brief History of Murder, She Wrote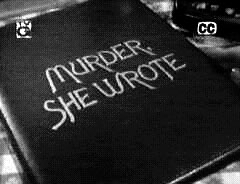 What makes this website the Definitive Guide to Murder, She Wrote? This: a brief - but definitive - history of the series. The story of how the series came to be, and the changes that occured over its twelve year lifespan, is almost as interesting as the episodes themselves.

If we may say so ourselves, this is just about the most comprehensive MSW chronology to be found anywhere on the Web, the result of exhaustive research and information compiliation on our part (but don't feel sorry for us, it was fun). If there are any errors contained herein, or if anyone out there has more information to add, please feel free to e-mail us.

The story begins in 1984 ...
Early 1984
– CBS network executive Harvey Shepard approaches Richard Levinson and William Link about creating a mystery series centered around a female protagonist. They, in turn, contact Peter S. Fischer, and the three of them write a pilot episode.
- Jean Stapleton is envisioned as the female lead, but for a variety of reasons she rejects the part.
- Angela Lansbury, who has been quietly expressing interest in starring in a television series, is suggested as the next choice, an idea Shepard supports.
Spring, 1984
– Angela meets with Shepard, Levinson, Link, and Fischer on a Friday. She takes the weekend to weight their offered role of Jessica Fletcher versus another prospective role in an upcoming Norman Lear sitcom. Intrigued by the character and potential of Jessica and by the fact that the show is considered a "long shot," she accepts Levinson and Link's offer on Monday.
April 11, 1984
– Filming of the MSW pilot begins.
July, 1984
– Shooting for the regular episodes of the first season begins.
September 30, 1984
– MSW premiers with its 2-hour pilot episode, "The Murder of Sherlock Holmes." Jessica has her first and last serious on-screen kiss. The episode ranks at 18.9 on the Nielsen charts with a 29% share of the audience.
October 7, 1984
– Tom Bosley and Claude Akins first appear in their recurring roles as Cabot Cove's Sheriff Amos Tupper and fisherman Ethan Cragg in the episode "Deadly Lady." The character of Ethan Cragg would not last beyond the end of the first season.
February, 24, 1985
– Jerry Orbach makes his first guest appearance in the episode "Tough Guys Don't Die."
1984-1985
– 13 different directors work on MSW during its first season.
April 21, 1985
– William Windom makes his first appearance in the season finale, "Funeral at Fifty-mile," but not as his eventual recurring character. MSW ends the first season at #8 with 21.8% share of the audience.
September 29, 1985
– MSW's second season begins with the episode "Widow, Weep for Me," and introduces Angela's Sweeney Todd co-star Len Cariou in his James Bond-like recurring character of Michael Haggerty. The episode beats out the much-hyped Steven Spielberg series Amazing Stories (6th place vs. 12th)
October 6, 1985
– William Windom begins his long run as the recurring character Dr. Seth Hazlitt in the episode "Joshua Peabody Died Here Ö Possibly." The gap between MSW and Amazing Stories week widens: MSW is in 4th place, while Amazing Stories sinks to 24th.
October 13, 1985
– Veteran actor Lloyd Nolan makes his final appearance before his death in "Murder in the Afternoon" – Angela helps him get through the filming by coaching him when he has trouble remembering his lines.
October 27, 1985
– Angela plays a dual role in the episode "Sing a Song of Murder" as both Jessica and her British cousin Emma Macgill (whose surname was chosen to honor her mother, actress Moyna Macgill). While in character as Emma, Angela sings "Good-bye, Little Yellow Bird," a song she first sang in the 1945 movie The Picture of Dorian Gray.
Fall, 1985
– Angela has a disastrous interview with Barbara Walters for her upcoming Christmas special.
1985-1986
– At Angela's behest, the number of MSW directors is reduced to five.
- Angela begins to make upgrades to Jessica's image and wardrobe
May 18, 1986
– Season 2 wraps up with the episode "If the Frame Fits." MSW ends the season at #3 with 25.3% share of the audience, higher even than its lead-in, 60 Minutes.
September 28, 1986
– The third season begins with the first part of the first MSW cliffhanger episode, "Death Stalks the Big Top." The episode concludes on October 5.
November 19, 1986
– MSW crossover episode with Magnum, PI, currently in its seventh season and losing steam. The crossover concludes on MSW on November 23.
1987
– Deciding that Jessica's character can now be considered fully developed, Peter S. Fischer creates a set of guidelines about her for prospective writers to follow.
February 18, 1987
– Although it is well before Season 6, the actual first ever "bookend" episode, "Murder in a Minor Key," airs. The episode is the plot of one of Jessica's books by the same name, and her only role is as narrator.
February 22, 1987
– MSW airs the 90 minute episode "Death Takes a Dive" as an introduction to its spinoff series, The Law and Harry McGraw.
March 12, 1987
– Richard Levinson passes away.
April 19, 1987
– "The Days Dwindle Down" airs as a continuation to the 1949 movie Strange Bargain – complete with original cast members!
May 10, 1987
– "Murder, She Spoke" ends Season 3. MSW finishes the season at #4 with 25.4% share of the audience.
1987
– Angela has a touch of cosmetic surgery.
September 20, 1987
– The fourth season begins in Paris with the episode "A Fashionable Way to Die."
September 27, 1987
– MSW's only spinoff series, The Law and Harry McGraw, premiers.
November 1, 1987
– Second appearance of Angela as Jessica's cousin Emma in "It Runs in the Family." During the episode, Emma is seen holding one of Jessica's books.
1988
– Positive Moves, Angela's fitness instructional video, is released.
February 10, 1988
– The Law and Harry McGraw gets cancelled after just sixteen episodes. Oh well.
March 27, 1988
– "Just Another Fish Story" sees Jessica's nephew Grady get engaged to Donna Mayberry, and sets a record for the most unusual murder weapon used in the series.
May 8, 1988
– "The Body Politic" ends the fourth season. MSW comes in at #9 with 20.2% share of the audience.
September, 1988
– Tom Bosley leaves MSW to take on the title role in the new series Father Dowling Mysteries.
- A Hollywood writers' strike delays the start of season 5.
October 3, 1988
– Having purchased 111 episodes of MSW for $40 million, the USA Network begins airing MSW reruns on cable.
October 23, 1988
– Len Cariou returns as MI6 agent Michael Haggerty to open Season 5 in the episode "J.B., as in Jailbird."
November 6, 1988
– Ron Masak makes his first appearance as Cabot Cove's new Sheriff in "Mr. Penroy's Vacation."
Fall, 1988
– Claiming that she needs more time for herself and for other projects, Angela starts hinting that when the fifth year of MSW and her five-year contract are over, she'll call the series quits.
Early December, 1988
– ABC begins to make advances to Angela about taking MSW to their network, possibly as part of a rotation of Monday night mystery movies.
January 1989
– Negotiations for a sixth season of MSW start in earnest. Lawrence Tisch, president of CBS, pays a personal visit to Angela and talks to her about continuing the show on his network.
January 8, 1989
– Jessica's nephew Grady gets married in "Something Borrowed, Someone Blue."
February 14, 1989
– in the midst of contract negotiations with Angela, CBS throws a big party at the Biltmore Hotel to celebrate MSW's 100th episode.
Late February, 1989
– Angela and her company, Corymore Productions, agree to sign on for a sixth and "last" season of MSW.
- Angela is promised a reduced workload.
April 2, 1989
– The episode "Truck Stop" pays homage to the film noir movie Double Indemnity.
May 14 and 21, 1989
– "Mirror, Mirror, on the Wall" airs as a two-part season finale, the product of Peter Fischer's "frantic rewrite of the entire script" of what had originally been intended to be the series finale. MSW ends the fifth season at #8 with 19.9% share of the audience.
June 1, 1989
– Donald Bain's first MSW novel, Gin and Daggers, is published – with some serious character flaws. The book is noteworthy, however, for committing a serious breach of accepted MSW canon by introducing a potential love interest for Jessica, Scotland Yard Inspector George Sutherland.
September 24, 1989
– The sixth season begins with "An Appointment in Athens," once again featuring Len Cariou as MI6 agent Michael Haggerty.
October 8, 1989
– The first of the season 6 "bookend" episodes, "The Grand Old Lady," airs. Jessica introduces the story and concludes it, but is otherwise absent from the episode. The bookend episodes, of which there would be nine this season, are the method used to lighten Angela's workload, a concession necessary to bring her back for Season 6. Fans, however, are not pleased, and the ratings start to slip.
1989 - 1991
- Angela and Peter S. Fischer begin to experience friction over Jessica's characterization, and in what directions she should grow: Angela wants her to become stronger, more worldly, and independent, while Fischer prefers her to be more traditional and static.
1990
– The book edition of Angela's Positive Moves, co-authored with Mimi Avins, is published.
- Corymore begins negotiations with CBS regarding a half-hour show for Angela to air in the 8 PM Sunday time slot beginning in the fall of 1991.
May 20, 1990
– Len Cariou closes out the sixth season in the bookend episode "The Sicilian Encounter."
September, 1990
– William Windom leaves to star in the new sitcom Parenthood.
September 16, 1990
– The seventh season begins with "Trials and Tribulations"; this time Angela stars in seventeen episodes, and only five are "bookends." Fans are still not pleased, and the show's ratings continue to slip.
September 23, 1990
– In the episode "Deadly Misunderstanding" Joe Dorsey is brought on board to fill the void left by Windom as new regular cast member Ben Devlin, publisher of the Cabot Cove Gazette.
November 18, 1990
– "The Return of Preston Giles" revisits key plot elements from the series' pilot episode.
December, 1990
– Parenthood is history by year's end.
- Ben Devlin also fails to hit it off as a character, and fades from view before the end of the season.
Fall, 1990
– Angela Lansbury once again says she's through with MSW as a series, but promises to do TV movies as Jessica.
January 6, 1991
– William Windom makes his only appearance this season as Seth in the episode "Family Doctor."
March, 19, 1991
– Angela agrees to come back for an eighth season of MSW, promising to participate fully in all 22 episodes.
April 7, 1991
– "Thursday's Child," the most emotionally charged episode ever made in the series, airs.
May 12, 1991
– The episode "The Skinny According to Nick Cullhane" ends with a wink from Jessica to the audience (promising an eighth season to come) – a last minute addition to adapt an intended series finale into a mere season finale. The reason: the episode was filmed during the mid-March negotiations, when Angela's return for an eighth season was still in doubt. Having learned his lesson after Angela's last minute about-face at the end of the fifth season, Peter S. Fischer ended the episode with the wink, which could be kept or deleted depending on the outcome of the negotiations – a much simpler solution than rewriting the entire script.
- The episode also marks the final guest appearance of Jerry Orbach on the show. He would go on to have a long-running role in NBC's Law and Order.
- MSW ends the seventh season at #12 with 16.4% share of the audience.
Summer, 1991
- Angela insists on becoming more involved with the story creation process of the series. Rather than continue to clash with her over this issue and Jessica's character development, Peter S. Fischer leaves the show voluntarily.
- David Moessinger is named the new executive producer for the upcoming eighth season, but it is generally understood that Angela is calling the shots.
- Angela is presented with a lifetime achievement award from the British Academy of Film and Television.
1991
– Angela and husband Peter Shaw purchase land in Ireland overlooking the Atlantic Ocean to build a new vacation home – a reward, she says, for her long years of work on MSW.
September 15, 1991
– Jessica moves to New York City and begins teaching criminology at Manhattan University. The episode, "Bite the Big Apple," begins in Cabot Cove and features Seth throughout, easing nervous viewers into the concept of Jessica living in the city.
- Angela gets a shorter work week: twelve hour days, four days a week.
- The show starts inviting more younger (less expensive) guest stars and fewer expensive veterans.
- By now, fully a third of MSW viewers are under the age of 50.
- MSW is now the second longest running drama series, after Knots Landing.
November 3, 1991
– Jessica bows to the relentless tide of technology and upgrades from a manual typewriter to a computer in the episode "Lines of Excellence."
January 15, 1992
– CBS announces that it is preparing a half-hour show based on the movie Driving Miss Daisy for the fall of 1992, anticipating that the eighth season will be the last.
January 19, 1992
– MSW pays homage to Alfred Hitchcock with the episode "Incident in Lot 7," which was filmed on the set of Psycho at Universal Studios.
January 30, 1992
– Angela renews her contract early (!) for Season 9. As part of the deal, she replaces Moessinger as the show's executive producer.
- TV Guide later reports that although Angela was at one time eager to pursue a half-hour show (and the reduced work schedule it promised), she came to worry that fans would refuse to make the change from MSW to a new show with her.
May 17, 1992
– "Murder on Madison Avenue" concludes Season 8. The ratings of the revamped series are significantly better than they were at the end of Season 7.
1992
– Anthony Shaw becomes the show's primary director.
- David Shaw becomes CEO of Corymore Productions.
- Bruce Lansbury becomes the show's chief writer.
September 20, 1992
– The ninth season of MSW begins with the episode "Murder in Milan."
December 13, 1992
– Bruce Lansbury and Anthony Shaw co-write "A Christmas Secret," the first episode of MSW in which there is no murder.
January 28, 1993
– Angela signs on for two more seasons (10 and 11) for the sake of her family, which now works with her on the show.
March 15, 1993
– Angela is reunited with Sweeney Todd road show co-star George Hearn in the episode "To the Last Will I Grapple With Thee." The episode's writer, J. Michael Stracyznski, later notes that this is the longest episode title in MSW history (he was wrong: "How to Make a Killing Without Really Trying" and "Who Threw the Barbitals in Mrs. Fletcher's Chowder?" are longer).
May 16, 1993
– "Love's Deadly Desire" wraps up the ninth season in Cabot Cove.
September 12, 1993
– Season 10 begins with "A Death in Hong Kong." MSW is now the longest-running detective drama in television history.
September 19, 1993
– Angela hosts the 45th Annual Emmy Awards ceremony – but yet again, fails to win one for herself.
October, 1993
– Madlyn Rhue becomes a MSW regular as Cabot Cove's wheelchair-bound librarian (she was diagnosed with multiple sclerosis in 1975). Angela does this to make sure Madlyn qualifies for health insurance to cover her medical bills.
November 7, 1993
– "Bloodlines," the 200th episode filmed (but the 202nd to be aired) is shown. Instead of having a big party in honor of the 200th episode, Angela gets CBS and Universal to each donate $50,000 to the American Foundation for AIDS Research.
May 18, 1994
– Angela has hip replacement surgery – the same surgery as Liz Taylor had, although by all accounts Angela was a much better patient.
May 22, 1994
– MSW ends the tenth season at #9 in the ratings with the episode "Wheel of Death."
June, 1994
– Angela is made a Commander of the British Empire by Prince Charles
- Angela gets a perfect 100% rating on TV Guide's "lovability index" of Hollywood celebrities.
August, 1994
– MSW writer Bruce Lansbury concedes in an interview that after ten years, it can be tough to come up with fresh stories. It's not the methods of killing people the writers are running out of, its venues in which to dump the bodies.
September 11, 1994
– Angela ties Susan Lucci for the dubious distinction of the most snubbed Emmy nominee, at 14 fruitless nominations.
September 25, 1994
– The eleventh season begins in "A Nest of Vipers."
September 30, 1994
– Angela appears on Larry King Live. Larry asks her if she plans to give up the series; she replies that now that she has a business interest in MSW, the answer is probably no.
December 1, 1994
– Now working with a new publisher, Donald Bain releases his second book in the MSW series, Manhattans and Murder. After this, new books appear roughly every six months.
January, 1995
– Angela commits to a twelfth season of MSW, but says (yet again) that it will most likely be her last.
May 14, 1995
– MSW finishes the eleventh season at #9 in the ratings.
May, 1995
– With no forewarning, CBS decides to move MSW from Sunday to Thursday as part of a restructuring plan to attract a younger audience to Sunday night (MSW's replacement at 8 PM on Sunday is Cybil, starring actress Cybil Shepherd).
- Angela gets the bad news via a phone call from CBS entertainment president Peter Tortorici and is "very heartbroken." As for CBS, they are apparently willing to let MSW founder and die due to its age and high production costs.
September 21, 1995
– The twelfth and final season begins with the episode "Nailed." In the face of stiff competition from the likes of Friends, the show's ratings plummet.
January, 1996
– CBS signs Angela for a round of TV movies for the next season, which takes some – but not much – of the sting out of the move to Thursday night.
February 8, 1996
– MSW takes a stab at its Thursday night competition with the episode "Murder Among Friends."
February 15, 1996
– Angela's grandson Ian appears in the episode "Something Foul in Flappieville."
March 26, 1996
– CBS announces that the twelfth season of MSW will be its last. This time they mean it.
April 1996
– Because of the emotional nature of the event, Angela arranges to finish her scenes before the absolute last day of filming.
April 11, 1996
– The final day of production for MSW.
April 14, 1996
– A fanciful New York Times article about MSW ending its twelve year run speculates that the alarming homicide rate in Cabot Cove should finally begin to come down. Will a safer Cabot Cove result in higher property values?
April 28, 1996
– The "Final Four" episodes are allowed to reoccupy Sunday night. Not surprisingly, ratings improve.
May 18, 1996
– Angela's own farewell to her viewers appears in TV Guide.
May 19, 1996
– MSW ends its twelve year run quietly with an episode entitled "Death by Demographics." Jessica's farewell appears as a voiced-over letter at the very end of the show. "Death by Demographics" ranks 16th in the ratings and is the most watched CBS program for that week. Overall, MSW ends the twelfth season at #65.
September, 1996
– Angela loses at her last chance to win an Emmy for MSW. That's sixteen nominations and no wins.
October, 1996
– The USA Network decides to cease airing MSW in syndication, preferring to air more original programs such as Silk Stalkings.
1997
– The Murder, She Wrote Cookbook is published, with all profits going to Aid for AIDS.
- The Unofficial Murder, She Wrote Casebook by James Robert Parrish is published.
September, 1997
– Angela is awarded the National Medal in Arts and Humanities in a White House ceremony with President and Mrs. Clinton.
November 2, 1997
– The first 2-hour MSW movie, South by Southwest, airs on CBS.
September 13, 1998
– The A&E cable network begins running MSW in syndication, starting with an eight episode marathon capped off with a Biography installment featuring Angela.
April 1, 2000
– Donald Bain's first MSW book Gin and Daggers is re-issued, with the most glaring continuity flaw of the first edition – Jessica driving a car – corrected.
May 18, 2000
– The second MSW movie, A Story to Die For, airs on CBS.
August 12, 2000
– "The Definitive Guide to Murder, She Wrote" makes its debut on the World Wide Web! (Sorry, couldn't resist.)
May 2, 2001
– The third MSW movie, The Last Free Man, airs on CBS.
January 29, 2003
– Angela's husband Peter Shaw passes away from congestive heart failure.
May 9, 2003
– The fourth and final MSW movie, The Celtic Riddle, airs on CBS.
March 1, 2004
- The A&E cable network moves most of its syndicated episdoes of MSW over to its new spinoff network, The Biography Channel. Since Biography is not part of most people's basic cable packages, fans are aggrieved.
December 28, 2004
– Death of frequent MSW guest star Jerry Orbach, from prostate cancer.
March 29, 2005
– The first season of MSW is released on DVD.
December 6, 2005
– The second season of MSW is released on DVD.
March 14, 2006
- The third season of MSW is released on DVD.
October 17, 2006
- The fourth season of MSW is released on DVD.
January 30, 2007
- The fifth season of MSW is released on DVD.
April 17, 2007
- The sixth season of MSW is released on DVD.
October 9, 2007
- The seventh season of MSW is released on DVD.
April 1, 2008
- The eighth season of MSW is released on DVD.
February 17, 2009
- The ninth season of MSW is released on DVD.
July 7, 2009
- The tenth season of MSW is released on DVD.
November 12, 2009
- Legacy Interactive releases its first MSW hidden object computer game.
February 2, 2010
- The eleventh season of MSW is released on DVD.
October 19, 2010
- Death of Tom Bosley.
November 23, 2010
- The twelfth season of MSW is released on DVD.
February 14, 2012
- The four post-season MSW movies are released on DVD, and with that, the entire series is complete.
August 16, 2012
- Death of William Windom.
November 21, 2012
- Legacy Interactive releases its second MSW hidden object computer game, "Murder, She Wrote: Return to Cabot Cove."
October 1, 2013
- "Murder, She Wrote: The Complete Series" is released as a boxed DVD set of all 12 seasons, but does not include the post-season movies.
October, 2013
- NBC announces that they intend to produce a reboot of MSW with Octavia Spencer as the star. Angela Lansbury is not pleased.
December 30, 2013
- Queen Elizabeth II names Angela Lansbury a Dame of the British Empire.
Sources:

The Unofficial "Murder, She Wrote" Casebook. Parish, James Robert. Kensington Books, New York, NY, 1997.

Angela Lansbury: A Life on Stage and Screen. Edelman, Robert and Audrey E. Kupferberg. Birch Lane Press, New York, NY, 1996.

Balancing Act: The Authorized Biography of Angela Lansbury. Gottfried, Martin. Little, Brown, and Company, Boston, MA, New York, NY, and London, England, 1999.

And last but not least, various articles from TV Guide and other newspapers and publications from my personal archives.