Statistical Analysis and Other Interesting Stuff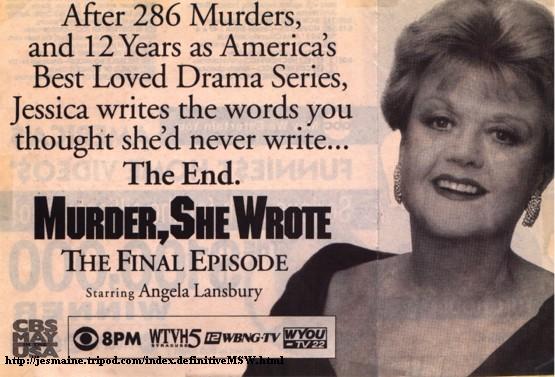 Statistical Analysis and Trivia
Jessica Fletcher (Angela Lansbury) – The bearer of bad karma, it's Jessica's inexplicable tendancy to stumble into the middle of murder plots and investigations that drives the plotline of the series. Jessica, who didn't take up writing until after the death of her husband Frank, is the poster child for midlife career changes and self-reliance.
Seth Hazlitt (William Windom) – Seth is Cabot Cove's leading physician and Jessica's best friend. Under that crusty Maine exterior is a dedicated doctor with real compassion for his patients, a nuturing side that sometimes manifests itself in Seth's protective tendancies toward Jessica.
Mort Metzger (Ron Masak) – A native of New York City and a veteran of the NYPD, Mort took early retirement and moved to Maine with his wife Adelle to enjoy an easier life as Cabot Cove's sheriff. Unfortunately for Mort, he picked the town with the highest murder rate in New England.
Adelle Metzger – Mort's wife, who is never seen, is an ex-Marine who teaches self-defense classes, talks grandiloquently, and frequently beats her husband at arm-wrestling.
Amos Tupper (Tom Bosley) – Amos was the sheriff of Cabot Cove at the beginning of its uncanny crime wave. Diligent and hardworking, he nevertheless was often overwhelmed by the circumstances he found himself in. He also had a tendancy to jump to conclusions, whereupon it fell to the ever-helpful Jessica to rein him in and redirect his efforts.
Harry Pierce (John Astin) – During his brief existence on the series, Harry was Cabot Cove's real estate agent who allowed himself to be seduced by greed into selling out to developers and, eventually, committing murder.
Eve Simpson (Julie Adams) – Harry's successor in the real estate business preferred to be the one doing the seducing. She had a reputation in town as being a man-chaser.
Sam Booth (Richard Paul) – Cabot Cove's bachelor mayor, who won re-election after re-election by virtue of the fact that he did virtually nothing to upset the status quo. In the early seasons at least, Cabot Covers were not overly fond of change.
Deputy Andy Broom (Louis Herthum) – Mort's chief deputy was pretty much a bit player in the drama of the series until he managed to get accused of a murder of his very own.
Deputy Floyd (Will Nye) – Red-headed Floyd was perhaps a bit naďve for his job, which made him the perfect foil for his boss, Sheriff Metzger.
Ethan Cragg (Claude Akins) – Jessica's fisherman friend from the first season inexplicably disappeared from the storyline by season's end.
Michael Haggerty (Len Cariou) – The dashing British MI6 agent had an annoying tendancy to pop up without warning and disrupt Jessica's life. Jessica, for her part, can't help but respond to his dashing charm and usually ends up going along – which, of course, only encourages him to disrupt her life again.
Dennis Stanton (Keith Michell) – When Jessica first met Dennis he was an expert jewel thief who, upon being captured, was put on probation and became a claims investigator for Consolidated Casualty in San Francisco.
Grady Fletcher (Michael Horton) – The series and Jessica's career as a writer ultimately owe their existence to her well-meaning nephew Grady, who found his aunt's first manuscript and delivered it to Coventry House without her knowledge or permission. The rest, as they say, is history.
Donna Fletcher (Debbie Zipp) – Grady eventually married fellow accountant Donna Mayberry, who had the dubious distinction of being the only character in the series to murder someone with a fish. They had one son, Frank Jr.
Lt. Artie Gelber (Herb Edelman) – Jessica's cohort in Manhattan had thought that he was on the fast track to retirement, and often wished for it devoutly as he followed Jessica from homicide to homicide.
Ted Hartley (Bruce Gray) – Jessica's rarely seen publisher was often the hand that guided her into situations that later led to trouble.
Emma Macgill (Angela Lansbury) – Jessica's red-haired British cousin looked enough like her to be her sister. A certain flair for detective work was another trait they shared, though Emma got into trouble far less often than Jessica did.
Loretta Spiegel (Ruth Roman), Ideal Malloy (Kathryn Grayson), Phyllis Grant (Gloria DeHaven), and Corinne (Sally Klein) – Collectively known as the beauty parlour ladies, these Cabot Cove women were the font of all knowledge in town – at least the knowledge that mattered.
Harry McGraw (Jerry Orbach) – Jessica won the respect of this slightly shady Boston private investigator with a heart of gold early in the series, and teamed up with him on several occasions thereafter - this despite their very different perspectives on law and order.
Charlie Garrett (Wayne Rogers) – Despite his shiftiness and tendancy to put his own unenlightened self-interest first, Jessica described Chicago PI Charlie Garrett as "a romantic." Their first case together involved a mystery no less compelling than the assassination of JFK.

The Murder of Sherlock Holmes (I)
Murder Takes the Bus (I)
Joshua Peabody Died Here Ö Possibly (II)
Crossed Up (III)
Mr. Penroy's Vacation (V)
The Last Flight of the Dixie Damsel (V)
Mirror, Mirror On the Wall, parts 1 and 2 (V)
The Szechuan Dragon (VI)
The Return of Preston Giles (VII)
Thursday's Child (VII)
Bite the Big Apple (VIII)
Night Fears (VIII)
A Christmas Secret (IX)
The Trouble With Seth (X)
Nan's Ghost, parts 1 and 2 (XII)
Premiere: "The Murder of Sherlock Holmes," September 30th, 1984. The first victim was Dexter Baxendale, done in with a shotgun.
Number of episodes: 264
Number of murders: 286
Episode with the highest body count: This dubious honor must go to Season 5's "Snow White, Blood Red," with three shown on-screen in the space of a single hour. "Nan's Ghost" from Season 12 had three as well, but these were spread over two hours as a two part episode. Season 7's "Who Killed JB Fletcher?" also had three, but they were not all shown on-screen. The Definitive Guide has spoken.
Episode with the lowest body count: "A Christmas Secret," in which the victim survives.
Recurring character with the most appearances: Dr. Seth Hazlitt, in 55 episodes. There are whole series that have had runs shorter than that.
Recurring character with the fewest appearances: Adelle Metzger, in 0 episodes – Adelle, Sheriff Mort Metzger's wife, was oft mention and once heard, but never seen.
Fletcher relative with the most appearances: Grady Fletcher, Jessica's nephew, in 11 episodes.
Number of cross-over episodes: one, with Magnum, PI
Number of spin-offs: one, the short-lived Law and Harry McGraw.
Jessica's alma mater: Harrison College, in Green Falls, New Hampshire.
Number of "bookend" episodes: Fifteen – one in Season 3, nine in Season 6, and five in Season 7.
Day Jessica gave in and joined the computer age: November 3rd, 1991.
Title of Jessica's first book: The Corpse Danced at Midnight
Title of the last book mentioned in the series: A Case and a Half of Murder (mentioned in episode 261)
Number of Emmy nominations for Angela Lansbury: Thirteen
Number of wins: Sadly, none
Series Finale: "Death by Demographics," May 19th, 1996. The final victim was Russell Connell, done in with a fireplace poker.
(Source: Murder, She Wrote press material and The Unofficial Guide to Murder, She Wrote)