Murder, She Wrote Original Fan Fiction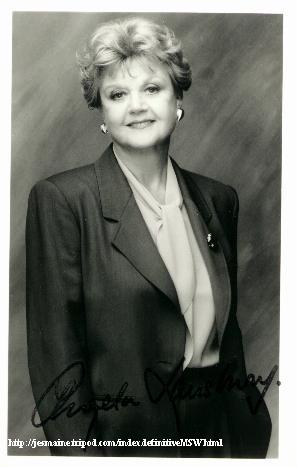 (7/18/08) Hi Donald, Just a quick question, I was wondering if you ever read the fan fiction that is on the internet under the Definitive Guide to Murder She Wrote. There are some really interesting stories written by fans of the series and books. Trudy
Hi Trudy -- The answer to your question is no. We'd love to read the fan fiction on that wonderful website. Obviously, some very talented writers are represented there. But as the writers of the MSW book series, we have to be careful to not be influenced by what we read, both from a creative standpoint as well as from a legal perspective. It would be too easy to allow something from a piece of fan fiction to slip into our books, and the possible ramifications of that are obvious. Our hats go off to the authors of Murder, She Wrote fan fiction, and we hope they'll continue to be inspired to write and to post their creative efforts.
(MSW book author Donald Bain's website discussion page, http://www.donaldbain.com/disc.htm)


Considering that the series was about the adventures of a writer, it's not surprising that it inspired original stories written for and by Jessica's fans. The following are all original works of fiction written in the Murder, She Wrote genre - solace for those of us who have felt starved for new stories about Jessica since the series ended.

Got Fanfic?
We're always looking for work from new contributors! Do you have a bit of MSW fanfic tucked away on your hard drive that you'd like to see published here? Send it on! (All postings subject to the approval of the editor.)


The Ten Commandments of Writing Fan Fiction
Tips for the aspiring fanfic writer in all of us, the Ten Commandments of FanFic exist in many forms across the Internet. This is our version.


The Writer's Workshop Challenge!
We've created what we hope will be the first of several writing challenges and exercises designed to stretch the creative muscles of new and experienced MSW fanfic writers alike.
Now the fine print: the individual authors retain the exclusive copyrights to their own work. No money is made from this site, and no malicious copyright infringement of characters created under the MSW trademark is intended.
Thank you for letting us play in your sandbox.
Click on the author's name to read stories by ...
NEW!

Past Meets Present - by Viki
The birth of Jessica's grandniece stirs up painful memories for Jessica; meanwhile, George, now her husband, meets her brother-in-law Neil for the first time.
NEW!

Curtain Call - by Grace Be
Seth Hazlitt is an actor with many roles - physician, town curmudgeon, and most difficult of all, best friend to Jessica Fletcher.
NEW!

Killer On Board - by T. Waters
When Jessica accepts an invitation to cruise the Mexican coast the last thing on her mind is murder. Just who had the biggest motive to kill Richard Baxendale? Follow Jessica Fletcher and find out.

The Worst Pies in London - by Amanda Phillips
While Jessica is in London to visit her cousin Emma, the Mayhew Theater's production of "Sweeney Todd" takes a realistic turn that blends drama with real life.

The Crossing - by AD
Two little girls find themselves in the middle of a very grown-up sized murder during a trans-Atlantic ocean voyage to America.

Dead Dogs Tell No Tails - by AD
Jessica finds support from an unlikely source when she investigates a murder at a veterinary clinic.

Endgame - by AD
Jessica has her hands full when both Dennis Stanton and Michael Haggerty descend on Cabot Cove in pursuit of the same person.

The Final Chapter - by AD
To save Cabot Cove, Jessica pays the ultimate price. It's then up to the town to solve her murder. The unwritten series finale!

Into Thin Air, Part One - by AD
Jessica is kidnapped on the streets of Portland, Maine, and it's up to Seth and Mort to find her.

Into Thin Air, Part Two - by AD
Seth and Mort race against time to find Jessica before it's too late ...

Je Me Souviens - by AD
Jessica and Frank Fletcher are in Bar Harbor for their 25th anniversary, but things are complicated when they find a body in Acadia National Park.

The Foundering of the Larkspur - by AD
When an old friend dies and a fishingboat sinks, Jessica is determined to discover the truth, and begins a new friendship.

The Banks o' Loch Lomond - by AD
"LEGENDS AND SONGS" part 1 - Another Scottish holiday with George Sutherland is ruined when the curse of Sutherland Castle is reawoken ... and brings about a murder.

On a Midsummer Eve - by AD
"LEGENDS AND SONGS" part 2 - In this sequel to "The Banks o' Loch Lomond," Jessica and George take a vacation from their vacation - this time the destination is Jessica's ancestral home of Kilcleer, Ireland. (adult themes)

The Prayer of St. Brendan - by AD
"LEGENDS AND SONGS" part 3 - The trilogy concludes with George fulfilling his promise to visit Jessica in Cabot Cove - but will an archeological mystery and murder interfere with their blossoming relationship? (adult themes)

The Scottish Play - by AD
Mystery and murder follow young Jessica Macgill and Frank Fletcher in a fatefilled Scottish Play...

Victoria's Secret - by AD
An interesting dream casts Jessica as Queen Victoria, in hot pursuit of Jack the Ripper.

Fire and Water - by AD
The explosion of a fishing boat in Cabot Cove's harbor sparks an investigation into arson and attempted murder.

Celebration of Life - by AD
Following the apparent death of Frank Fletcher's brother Neil, Jessica and her husband investigate the mysterious circumstances surrounding the boating "accident" that took his life.

Come As You Are - by AD
Is the ghost of Ernest Hemingway haunting his former home in the Florida Keys? That question holds the key to the murder of a young Hemingway biographer who asked Jessica and George to investgate the possibility during their Valentine's Day vacation in Key West. (book length, adult themes)

Taken Out at the Ballgame - by AD
There's a lot more than peanuts and Crackerjacks at stake when Jessica, Seth, and Tipper accept an invitation from Seth's old friend to attend a baseball game at Fenway Park.

The Quality of Mercy - by AD
AU (Alternate Universe) - A sequel to the episode "The Return of Preston Giles" but with a twist: Preston survives being shot. What would happen then?

"Murder," He Sensed - by BAW
In this crossover fanfic, a vacation is just what The Sentinel's Jim Ellison and Blair Jacob Sandburg need after a busy crime season in Cascade, Washington - but why does everyone snicker when they say their destination is Cabot Cove, Maine? Part of the author's Jacob's Ladder series of stories.
NOTE: For readers unfamiliar with the UPN series The Sentinel, the author has provided some helpful background information.

Fatalite en France - by Candice Hayward
Murder cracks the cozy shell of camraderie at a writing club's annual conference in beautiful Monte Carlo, and guest lecturer Jessica is asked to investigate.

Jessie MacGill: Kid Detective - by Denise
On the eve of World War II, Jessica's curiosity gets her in trouble with her older brother Marshall.

The Gravestone Murders - by GN Hetherington
Past and future are colliding in Cabot Cove: while a serial killer with an eye toward history commits a series of gruesome homicides, Mort Metzger faces serious competition for his job from a younger, media-savvy rival. (script form)

A Picture Perfect Murder - by Kats
"TABHAIRT ISTEACH DO" part 1 - Blackmail and murder are on the agenda when Jessica and Seth travel to Los Angeles and run into a couple they know from Cabot Cove.

The Ghost of Preston Giles - by Kats and AD
"TABHAIRT ISTEACH DO" part 2 - Kats and Anne co-authored this sequel to "A Picture Perfect Murder," which follows a deadly drug distribution scheme from Los Angeles to Cabot Cove.

Murder by Trust - by Kats
"TABHAIRT ISTEACH DO" part 3 - A flair for mystery seems to run in the family, as Grady's son Frank Jr. finds out when he is sent to Cabot Cove to spend a summer with his great aunt.

Til Deadly Do We Pact - by Kats
"TABHAIRT ISTEACH DO" part 4 - Picking up where "Murder By Trust" left off, Willie Mac tries to fill in the gaps in the dark history of his family's past, while a present-day murderer continues to exact revenge.

Come Across the Big Pond, Part One - by Kats
"TABHAIRT ISTEACH DO" part 5 - Taylor and Willie's wedding in Ireland provides the excuse for a Macgill family reunion, but events take a darker turn when three of the guests are kidnapped by the murderous Furhdaham clan.

Come Across the Big Pond, Part Two - by Kats
"TABHAIRT ISTEACH DO" part 6 - While the Irish village is still reeling from the deaths uncovered at the Furhdaham estate, Jessica, her family, and her friends learn that there are many forms of treasure yet to be found.

Murder by Skullduggery - by Kats
"TABHAIRT ISTEACH DO" part 7 - The gang's back home in Cabot Cove, but any hopes for a return to normalcy are soon dashed when Taylor's family shows up for an unexpected - and unwelcomed - visit.

Shenanigans - by Kats
"TABHAIRT ISTEACH DO" part 8 - Trouble brews for the kids and adults alike as a particularly bratty little girl visiting Cabot Cove sets off a chain reaction of unfortunate events.
The Gathering, Part 1: Tabor - by Kats
It's a rocky first day of school for Frank, Jr. and his Irish cousins. Meantime Willie plays a dangerous game with far-reaching consequences and Tipper suspects she's being stalked. Follow-up trilogy to "Tabhairt Isteach Do."

The Gathering, Part 2: Asarlai - by Kats
Back in the British Isles, Willie tries to stay one step ahead of the people trying to kill him with George Sutherland's help. Back in Cabot Cove, Tipper and the kids go on a treasure hunt but end up in serious danger after Tipper witnesses a murder.

The Gathering, Part 3: Lá Fhéile Eoin - by Kats
Jessica works to clear the name of a brilliant scientist accused of murdering her husband, while Tipper continues to uncover the secrets buried beneath the shop Willie left in her hands.

Beauty to Die For - by Kats
Tipper Henderson in a beauty pageant?!? She can't believe it either, but her presence becomes critical for Mort and Jessica when one of the event's organizers is found dead during the talent competition. Picks up where "The Gathering" left off.

Yesterday's Hero - by Kats
Tipper Henderson gets picked for jury duty for the trial of a Cabot Cove neighbor accused of murdering a well-liked local teenager.

Magpie - by Kats
A little girl's tragic past becomes the heart of a present-day murder mystery, the effects of which are being felt well beyond Cabot Cove.

When the Wind Blows - by Kats
A baby whose grandparents were murdered goes missing after a mysterious car accident involving her parents - and Mort has reason to believe the infant will also be in danger if she is found.

A Recipe for Murder - started by Kats, finished by others
This was an idea that Kats had a few years ago - she started a story, and then invited others to finish it. Read the beginning and three alternate endings!

Annie's Song - By Lizz Browne
Jessica takes in her neice, who is looking for a place to call home.

Footprints in the Snow - By Lizz Browne
It's Christmas in Cabot Cove, but when Annie, the Scrooge, goes missing, Christmas looks as though it may be ruined for everyone.

Master Detective Clue - By Lizz Browne
When people get bored in Cabot Cove, they know the perfect remedy.

Chicago: Come Spend Christmas With Murder - by Lizzie Bapst
Jessica joins her relatives - and Seth - in the Windy City for the holidays, but murder threatens to crash the party.

A Taste for Murder - by Lizzie Bapst
When Jessica visits Peekskill, she packs an unwelcome guest in this MSW / Facts of Life crossover story.

The Scarlet Polish - by Lizzie Bapst
When a ladies' man is murdered in Cabot Cove, the list of suspects is legion.

Tidings of Comfort and Joy - by Lucy Gillam
On the eve of Christmas 2009, Jessica meets and old friend on the streets of New York.

Christmas in London - by MaddieAndrews8
Sequel to A Fatal Feast. Jessica accepts George's invitation to spend the holidays with him in London where things get ... complicated.

A Little Family Business - by Melissa
George's niece Elizabeth's excitement at visiting California with her uncle and Jessica turns to dismay when she is accused of murdering an obnoxious restauranteur. (adult themes)

What's in a Name - by MinervaDeannaBond
A day of researching names for her latest novel leads Jessica to research Seth's name and he hers - and he points out just how much her name truly says about her. Pure Seth/Jess fluff.

Celebrated Lady Mystery Writer JB Fletcher - by MinervaDeannaBond
A mystery writer with a talent for solving crimes and finding trouble everywhere she goes, that's Jessica Fletcher. Sing along with this parody of "Supercalifragilisticexpialidocious"!

When Will A Crime Begin? - by MinervaDeannaBond
With all the mysteries she solves on a seemingly daily basis, Jessica Fletcher probably sits around her house and wonders, "When will a crime begin?" Sing along with this parody of "When Will My Life Begin" from Disney's "Tangled"!

And One To Show 'Em How It's Done - by MinervaDeannaBond
When a light bulb fizzles out, Jessica must change it, prompting Mort and Seth to put a new spin on an age-old joke: how many detectives does it take to change a light bulb?

Dancing Barefoot - by MinervaDeannaBond
Dance like nobody's watching... that's what Jessica Fletcher does to relax, be free, and just be silly. A fluffy, fun snapshot of Jessica's life at home in Cabot Cove.

Long May I Reign - by MinervaDeannaBond
What makes a princess? Jessica Fletcher shares her own thoughts.

Dancing Barefoot Again - by MinervaDeannaBond
Seth Hazlitt doesn't normally dance, but an impromptu visit to Jessica's house finds him dancing barefoot with her!

Murder, She Rhymed - by MinervaDeannaBond
Ever wonder what it would've been like if Dr. Seuss wrote for "Murder, She Wrote"? Find out in this goofy parody!

Part Of Your World - by MinervaDeannaBond
After a night out at the movies, Seth observes how much Jessica is like a certain mermaid princess - and how glad he is to be a part of her world.

Little Moments - by MinervaDeannaBond
Fishing, driving lessons, and falling asleep in his arms on the couch... these are the little moments that Seth looks forward to whenever he spends time with Jessica. Seth/Jess!

A League of Her Own - by MinervaDeannaBond
Jessica's initials have made her famous among mystery aficionados. Little does she know that there's a funny coincidence that goes with the initials J.B.

Adventures in Babysitting - by MinervaDeannaBond
From hide-and-seek to sing-alongs, babysitting is always an adventure for Jessica, especially when she sits for her neighbors' little girl.

South Mouth - by MinervaDeannaBond
Following a visit with his sister in South Carolina, Seth educates Jessica on the finer points of Southern colloquialisms.

You'll Be In My Heart - by MinervaDeannaBond
When Jessica returns to Cabot Cove crushed by a recent experience, it's up to Seth to talk to her about it, comfort her, and help her realize that he will always be in her heart. A "deleted scene" from S07E19, "Thursday's Child."

Do You Want to Solve a Mystery? - by MinervaDeannaBond
Do you want to solve a mystery with Jessica Fletcher? She's asking you now! Sing along with this parody of "Do You Want to Build a Snowman" from Disney's "Frozen"!

Miss Jessie - by MinervaDeannaBond
We all know that Jessica Fletcher is fabulous, wonderful, and just plain awesome, but let's hear the citizens of Cabot Cove shout it for all the world to hear in a rousing tribute to their resident detective! Sing along with this parody of "Prince Ali" from Disney's "Aladdin"!

That Wink - by MinervaDeannaBond
When Seth feels like nothing at all makes sense, all Jessica has to do is give him that wink of hers, and he knows everything's going to be all right.

Window of Murder - by SarahB
Jessica and George are suspicious as to whether the death of her graduate student's roommate is really the suicide it appears to be. (adult themes)

Driving to Murder - by SarahB
Eve Simpson sold her sports car - a gift from an ex-beau - to Seth for a song. Now the ex-beau is missing, and Jessica is fearful that Seth has bought more than he bargained for. (adult themes)

Puzzles and Pearls - by S.W.W.
Back at her alma mater in Green Falls, New Hampshire to teach a short course in creative writing, Jessica encounters a mystery ... and an opportunity to spend time with fellow university guest lecturer George Sutherland.

The Deadly Diary - by S.W.W.
In this sequel to "Puzzles and Pearls," Jessica travels to London to promote her latest book and is drawn into a murder investigation that strains her reunions with George Sutherland and MI6 agent Michael Haggerty. (adult themes)

Murder in Big Sky Country - by S.W.W.
Montana's Waterton/Glacier National Park provides a beautiful backdrop for the grizzly murder of the owner of a park hotel under pressure to sell out to a larger corporation.

The Case Files of Chief Inspector Geoffrey McSwain - by S.W.W.
Jessica challenges George - and you, the reader - to solve the final installment in a collection of short mystery stories she wrote for him.

The Wild Blue Yonder - by S.W.W.
A pleasurable daytrip to the Kettle Falls, Maine Blueberry Festival in Jed Richardson's airplane turns terrifying when a murder attempt fells Jed at the controls - and Jessica, Seth, and Tipper are on board.

An Unfortunate Oversight - by Viki
Older brothers are often overprotective of their little sisters, as George finds out when he meets Jessica's brother Marshall for the first time.

A Double Team - by Viki
Having failed to convince Jessica of the risks she incurs with her relationship with George, Marshall brings in reinforcements: their older brother Martin.

All There Is - by Viki
As Thanksgiving approaches Jessica finds herself confined to bed, recovering from a serious back injury, prompting Seth to call George to come to Maine to help her heal in more ways than one. (adult themes)

Away in Wick - by Viki
While staying in Wick with George for the Christmas holidays, Jessica comes to an important realization about the importance of "home." Part four in the series.

Far Across the Sea, Jessie - by Viki
When Jessica's mysterious illness is revealed to be a deliberate poisoning, George, Seth, and Mort find themselves in a race against time to find an antidote and the person responsible. (adult themes)

Of Fantasies and Realities - by Viki
Four women go to Fantasy Island seeking help that only Mr. Roarke, the mysterious man that owns and runs the island, can provide them. A chance to spend one more day and night with a dead, beloved husband. A love that must be kept hidden. A quest for answers. A search for courage to change a relationship from friends to lovers. Can Mr. Roarke fulfill these wishes? (adult themes)

"The Final Chapter" - Behind the Scenes - by AD and S.W.W.
Outtakes of what was going on behind the scenes of the original fan fiction, by Anne and Stephanie.

"X" Marks the Spot - by S.W.W. and AD
The lure of a Cabot Cove seacaptain's legendary hidden treasure attracts considerable attention when his belongings come up for auction, and even more attention when one of the prospective treasurehunters is found murdered.

Valentine's Day - by Candice Hayward and Amanda Phillips
George's Valentine to Jessica - a surprise visit to her apartment in New York - is marred when he takes her out to dinner at an exclusive restaurant where murder is on the menu. Jointly written by Candice and Amanda, now posted here for the first time!

Shattered Dreams - by Lizzie Bapst and Lizz Browne
Jessica experiences a frightening series of nightmares that prove to be prescient to murder.